With the summer season knocking on our doors, it is the perfect time to shop for the best coolers to drive the heat away and live super cool this summer season. When looking for an air cooler for the hot Indian summers, we browse through the products of the top cooler brands with expectations to get the best cooler price in the market. Well, search no more as Maharaja Whiteline brings to you a wide variety of coolers that fit your budget and have an array of attractive features to help you go through the summer season comfortably. Here's a list for you to select the best cooler in India:
Hybridcool 55 Air Cooler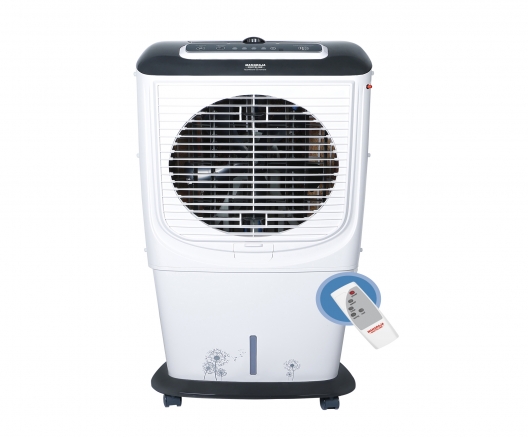 Designed for maximum comfort, the Hybridcool 55 Air Cooler is a premium air cooler for any space. It's ergonomic design and various features make it the best cooler for home. It is jam packed with useful features that make it an efficient cooling machine.
Hybrid Cooling Pads
Combining both woodwool and honeycomb cooling pads, this cooler harnesses the best of both worlds and provides amazing results in terms of increases cooling and efficient function. This blend of different cooling technologies makes it a great choice at this cooler price.
Large Tank Capacity
A large 55L water tank lasts for a very long time before needing a refill. So don't worry about frequently refilling your room cooler, just fill it once and enjoy hours of cool air with the Hybridcool 55.
Castor Wheels for Mobility
This attachment makes it easier to relocate the cooler and change its position to a desirable place. With the help of castor wheels, easily roll the indoors or outdoors even with a full tank without much effort.
Great Air Throw Distance
An air throw distance of 52 feet is enough to properly ventilate and cool large rooms and hallways with ease. Be it a large hall or a gallery, this cooler can efficiently spread cooling with ease.
High Air Delivery
Delivering 5000 m3 of air per hour, it has the capacity to move large amounts of air and hence effectively cool large spaces. It is more than enough to quickly cool a large room full of people.
Arrow Dlx Air Cooler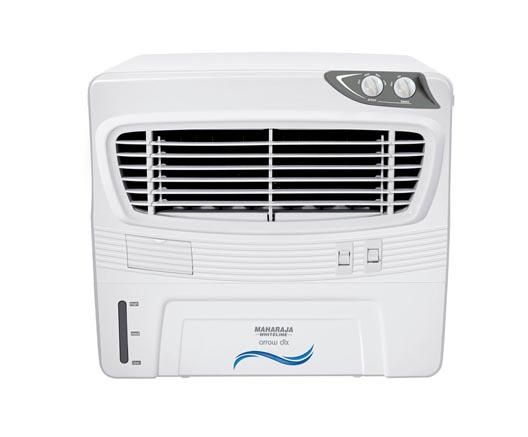 Arrow Dlx Air Cooler is a compact design and efficient cooling mechanism, make it the first choice for small homes and rooms. It can easily be installed in windows or kept separately on a stand and it gives a great cooling effect either way. Lets us look at some of its features:
Four-way Air Deflection
The room cooler is fitted with motorized vertical louvers and manual horizontal louvers to scatter air in every corner of the room. The vertical louvers swing in a continuous motion at the push of a button. The louvers can be fixed in a single direction to focus airflow in that direction only.
Mosquito Net
Mosquitoes are known carriers of many diseases and infections. The cooler is fitted with a net to prevent mosquitoes from entering and breeding in the water tank. This step greatly reduces the risk of mosquito-borne diseases.
Woodwool Pad
Woodwool pad is a light material with a high absorption rate for a greater cooling effect. Being a natural material, it is eco-friendly and good for the environment. Also, it is very easy to install and maintain.
Shockproof Body
A shockproof body averts the risk of electric shocks caused by leakage of current. Worry no more about the safety of your toddlers with this unique shock-proof body. This safety measure prevents shocks when coming in contact with a running cooler.
Frostair 45 Air Cooler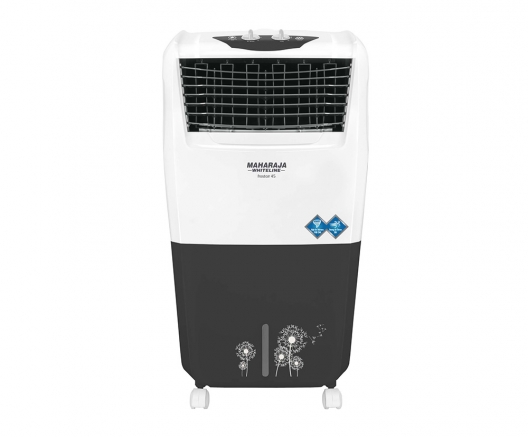 Looking for something extra cool? The Frostair 45 Air cooler might be the one for you. This cooler packs an extra punch and high chilling effect even in extreme temperatures. Let us glance at what's special:
Ice Chamber
This cooler is fitted with an ice chamber that holds ice cubes to aid cooling in high temperatures. Adding ice reduces the water temperature and cools the pads for a better cooling effect.
Dry Run Protected Pump
If the pump keeps running after all the water has dried out, there is a risk of pump failure and breakdown. A dry run protection mechanism protects the pump from running without water and increases its lifespan and durability.
High Capacity Anti-Bacterial Tank
A 45L water tank should keep you going throughout the night without needing any refills. The tank is infused with anti-bacterial elements to keep bacteria at bay and prevent foul smells and health risks. A large tank keeps the cooler running for longer durations and hence provides better cooling.
Blizzard 50 Air Cooler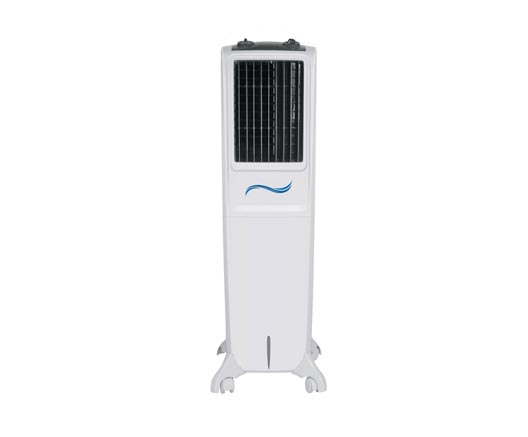 The Blizzard 50 Air Cooler is the best cooler in India for personal use. Its ergonomic design makes it easier to move around in a room. It is ideal for a single room and excels at cooling small spaces in a jiffy. Its notable features include:
Inbuilt Ice Chamber
The addition of ice reduces the water temperature further and cools the pads for a better cooling effect. This cooler is equipped with an ice chamber that can hold ice cubes to assist cooling in high temperatures and give instant relief.
Low Noise Operation
This room cooler produces significantly low decibel levels and hence has a low noise operation. Sleep soundly without the harsh cacophony of traditional coolers and wakeup energized and refreshed.
Honeycomb Pads
Honeycomb pads are highly durable and provide much better cooling than normal pads. They can last up to 3 years without replacement and have high water retention to provide increased cooling.
Inverter Friendly
This air cooler is compatible to function on power supplied by an inverter, so no need to worry about power outages in the summer, just plug this cooler and enjoy hours of cool air. It is specially designed to work with inverters of all capacities without malfunction.
We hope this list helps you select the best coolers for your home and workplace. Shop with Maharaja Whiteline for the best cooler price. For more amazing products by Maharaja Whiteline, visit their website at: https://www.maharajawhiteline.com/
Source url: https://bit.ly/2PkT0OP